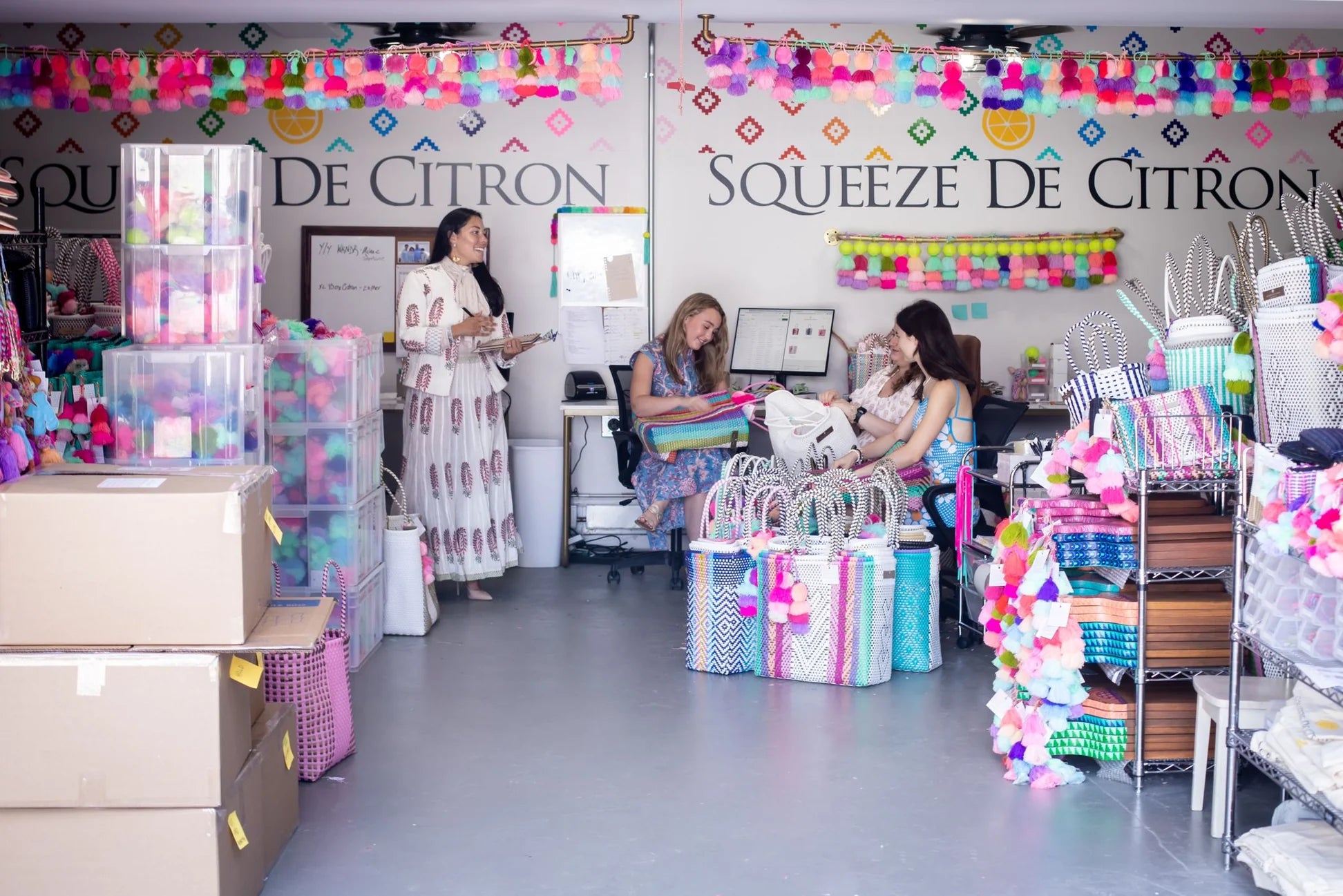 How the journey began
Squeeze De Citron, or "Squeeze the Lemon," is based on the principle of taking advantage of every fresh, juicy drop a lemon has to offer— celebrating a zest for life and adventure. Lila Limon, Founder, Curator, and CEO of Squeeze De Citron realized there was a niche in the market for accessories that bring joy and happiness through intense colors, and interesting patterns! Handmade, by Mexican and Guatemalan artisans, much of the Core, the Capsule, and the Lemon Drop Collections are made of 100 % recycled plastic. Not only is the company supporting artisan communities, but it supports the health of our planet too.

The Squeeze De Citron brand made its formal debut, after Lila had hosted many home nonprofit events to raise money for children's causes. She started by presenting small collections of totes with her designs at these events, and attendees started requesting them. After selling more than 500 bags and seeing the demand in her beloved community at the time in Windermere, FL, in 2015 she thought it was the perfect time to start a business, as she discovered there was a niche.
The inspiration behind the brand
When Lila was a young girl, she avidly collected Care Bears and took her time selecting them because she was attracted to the vivid colors, different faces, symbols, and 'personalities' of each Care Bear. Also fascinated with Lip Smackers, she found joy in the different flavors and smells! Who would have thought that Lip Smackers and Care Bears translated today into what the Squeeze De Citron brand has become, simply evoking delight through colors and creativity, like the feeling of a 'kid in a candy store'.
Sharing the inspiration behind
The brand name and lemon on the logo
The company name is inspired by Lila's last name Limon, which means 'lemon' in Spanish. The story of the yellow lemon on the logo has a beautiful full circle meaning from Lila's warm childhood memory of a lemon tree at her grandfather's house, which grew green lemons. In Mexico, they use green lemons (which are limes here in the U.S.). While living in Mexico, Lila always identified herself as a green lemon, now, living in the United States she felt like she transformed into a yellow lemon. She found out why! While living in the U.S., Lila's aunt came to visit and gifted Lila a photo of her grandfather's lemon tree. Lila noticed that there were both green and yellow lemons hanging from the tree. Surprised to see both, Lila asked her aunt why. Lila's aunt told Lila something she had never known. When the green lemons matured, they turned yellow. Suddenly, Lila teared up, and everything made sense to her. The photo and explanation reaffirmed that Lila made the right decision to move to the United States and follow her dreams. She transformed
to become a yellow lemon, to reach her potential!
Where we are now
Lila's understanding of the United States market, hand and hand with discovering what the artisans' limitations were with the totes she was curating, immediately translated into exclusive in-house designs by mixing colors, textures, and patterns while coordinating poms of different colors and styles with the totes. Different collections were born! Becoming a business of shared 'Citron Love'. Her totes can smoothly transition from day to evening; and may be carried anytime at the pool, beach, golf course, tennis courts, while shopping, on the boat, or for a weekend getaway. New and exciting totes are unveiled seasonally. However, the totes are seasonless, just changing the pom can give a tote a completely different look, a more neutral pom with earthy colors transitions perfectly into Fall.
Squeeze De Citron ships all over the United States, Canada, Spain and many island locations. The company has now grown with the support of over 450 global retailers, and has been in such as stores as Bloomingdales, Nordstrom…and now in Everything But Water, to name a few.  
Lila is the epitome of a modern entrepreneur. She pays extreme attention to detail and makes sure each bag represents the quality and craftsmanship she stands behind. Two very important concepts that are built into her slow fashion business model are sustainability and fair trade.
The three collections (Core, Capsule, and Lemon Drop) are made 100% of recycled plastic and each bag takes an entire week to create. The plastic creates added structure, making it durable as well as waterproof. The company works on a fair-trade basis, giving back 55% of the annual cost of production. The origins of the collections were birthed in little town of Oaxaca, Mexico. Lila is a natural at guiding the brand by creating different designs and curating accessories. Keeping with her native country's tradition, and with the original spirit of the bags, Lila puts uses her new ideas by adding a "citron twist" to make them unique. Her designs are executed by talented Mexican and Guatemalan artisans who are compensated fairly, and this supports eight artisanal communities. "Citron Love" isn't just about how the gorgeous products make you feel aesthetically, but how they make you feel emotionally, by equally spreading love for artisans and the earth!